THERE'S A SIMPLE WAY TO GET
HEALTHIER…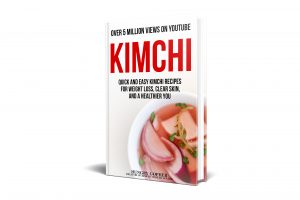 In
Kimchi, quick and easy kimchi recipes for weight loss, clear skin, and a healthier you,
you will discover:
how to make your kimchi — quickly…

how to safely ferment and eat kimchi…

and how to get healthier with your kimchi…
By making and eating kimchi at home.
Sounds crazy, but it's true.
And I'll show you exactly how to do it.
MY BACKGROUND IN "KIMCHI" AND "HEALTH AND WELLNESS"
I started teaching about kimchi-making and its essential role in health and wellness in March of 2014.
In six years, I've gotten over 5 million views on YouTube with hundreds of kimchi fans raving about their kimchi success – therefore, their health improvement. 
In 2015, I became medicine-free, including steroids, I had relied on for 30 years with customized-kimchi, food, and simple lifestyle changes. 
Let me repeat that:  I became medicine-free and got healthier as I got older.
It's also important to realize that I did this with simple, natural tools – such as kimchi, food, and small yet impactful adjustments in my life without magic supplements that come in a bottle.
In
Kimchi,
I show the exact recipes I used (and the same recipes OTHERS followed) to lose weight, get clear skin, and get healthier from kimchi so you can have the same success.
HOW KIMCHI IMPROVES YOUR HEALTH FOR MORE THAN JUST ITS DELICIOUSNESS AND LOW CALORIE 
You might be thinking this is a one-off example; that my experience was an anomaly, or that it can only work in certain ages under certain conditions.
No way this can work for an overall improvement of your health and wellness…
I thought this way myself for a while.
After all, if kimchi
 is really this powerful, why don't more people use it?
So I started digging
Over the course of several months, I found hundreds of scientific researches that prove the health benefits of kimchi. I also went through all comments and the emails I have received from my kimchi fans about how kimchi has improved their health in real life from weight loss, clear skin, and overall improvement of their well-being. 
Here are just a few examples:
Words from the Health Authorities
Words from the Your Kimchi Peers
"Nothing could have surprised me more when I realized that I was beginning to lose weight consistently without really trying…Guess what – I was eating Kimchi… I surmised that the bacteria in the fermented vegetables must have changed my metabolism and caused the weight loss. To date, I have lost 45 lbs, and that puts me nearly halfway to my goal." – John

"Finding your great tutorial and start having delicious kimchi in my fridge every time came along with changing my eating habits in general…So now I feel happier with more energy and a few pounds of weight loss" – Ute

"I have no particular health interests in kimchi other than that it is delicious and calorie free.  Eating kimchi allows me to eat much less of other things because it's so satisfying" – Kris

"Love your videos and really enjoy learning how to make kimchi. I now eat it almost everyday…sometimes with every meal! Its really nice to find something healthy and delicious. Learning the he art of naturally preserving food helps us stay grounded and in touch with our roots and shows us a better way to live" – Michael
HOW YOU CAN USE KIMCHI FOR YOUR HEALTH IMPROVEMENT, WEIGHT LOSS, AND CLEAR SKIN
That's the question I wanted answered, and it's the question that fueled my new book,
Kimchi: Quick and Easy Kimchi Recipes for Weight Loss, Clear Skin, and a Healthier You
In it, I explore:
The Reasons Behind Kimchi And Healthier You– the underlying principles of WHY it's crucial for your health and your communities' health – essential if you care about using kimchi for your health and wellness.

7 Kimchi Recipes To Boost Your Health – simple and flavorful kimchi recipes to ensure your kimchi success 

4 Bonus For Your Easy Kimchi Journey – introduction and shopping guide for gochugaru (Korean chili pepper flakes) and three recipes for cooking with kimchi

8 Companion Recipe Videos For Your Easy Kimchi Journey – step by step visual demonstration of the recipes in the book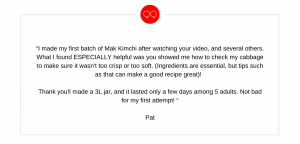 JUST THE BOOK ($15 VALUE)
Kimchi: Quick and Easy Kimchi Recipes for Weight Loss, Clear Skin, and a Healthier You
(just the book) has everything you need to make your kimchi — quickly. 
I spent the bulk of my time making this book standalone and powerful. I literally spent hundreds of hours creating it, and I'm super confident it will help you make your kimchi — quickly,
deliciously, and safely.
A book like this (with 8 companion videos) could reasonably be priced at $39 or more (I've paid more for less comprehensive books), but in the spirit of Pay What You Want, I'm making this available for less than a cup of coffee at your local coffee shop.
(I'll hope you'll tip so I can afford another coffee in the future ;D)
Pay What You Want for Just The eBook Now
Kimchi: Quick and Easy Kimchi Recipes for Weight Loss, Clear Skin, and 
a Healthier You (just the book) today.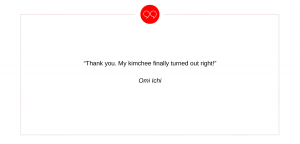 READY TO TRANSFORM YOUR HEALTH?